» Flat Panel Display Systems > FPD Laser Glass Scribing Systems > Fantom G4 Laser Scriber
Fantom G4: Laser Glass Scribing System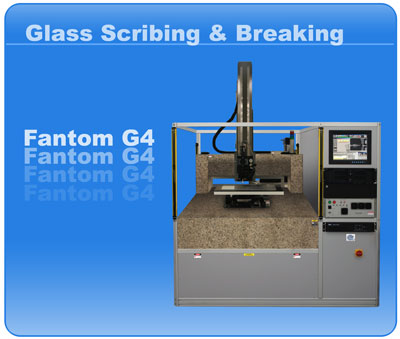 System Highlights
The Fantom G4 Glass Panel Scribing Machine utilizes the latest laser technology for glass scribing and is equipped with an integrated Laser Photonics laser source specifically geared for processing glass panels for the Flat Panel Display Industry.
The Fantom G4 Laser Scribing tool is a part of a new line of industrial laser cutting systems from Fonon DSS. It incorporates a new generation modular design laser and precision direct drive high resolution linear motion system forming a precision, stand-alone, small foot print, automatic tool which can be easily integrated into an inline system.
The system is based on Zero Width Laser Cutting Technology® (ZWLCT®). This method splits materials at the molecular level with tremendous speed, no material loss, and no chips or other debris associated with conventional scribe and break techniques.
Applications:
Larger Size Color Filters
FPD (Flat Panel Display) Manufacturing
Touch Screens
Precision Glass Fabrication
Large Panel Glass Scribing
Microscope Slides and Covers
Capabilities:
Capable of scribing glass panels uo to Generation 4 sizes (680mm x 880mm)
Capable of scribing on any type of display glass (except quartz) without realignments
Extremely stable singulation line, ensures highest possible edge quality
No chipping and no glass particles generated
Cross Cuts - no cut initiations on the crossing, no chipping
General Advantages:
High scribing speed - up to 1000mm/s
Extremely high accuracy - up to 10 microns achievable
Excellent integrity of cut surfaces
Cut edge is free of stress, no micro-fracturing present
Edges have an optical quality
Non-dimensional cut lines produced with no residue
Built-in modular (easy to replace) power supply, amplifiers, PC control, and high-voltage electronics
ZWLCT® - Zero Width Laser Cutting Technology® produces no particulates or material loss
Open configuration for Fantom G6 has loading and unloading/breaking air/vacuum tables
Easy installation and modular design allows for quick start-up times
Modern components virtually eliminate field alignments and increase reliability for 24/7 operation



Applications Search:





Fonon DSS | Laser Videos | Laser Marking & Engraving | Flat Panel Display | Semiconductor | Applications | Employment | About | Contact Us | Site Map

Copyright © 2023 Fonon Display and Semiconductor Systems, LLC