Laser Scribing Glass Application
Fonon Display and Semiconductor Systems (DSS) is the cutting edge developer of state-of-the-art, laser scribing, dicing, marking, coating removal, direct patterning, and photo mask repair solutions for the Flat Panel Display (FPD), Semiconductor, Photovoltaic and Electronics industries throughout the world.

In this Application Report, our engineers processed 25mm x 25mm glass samples using Fonon DSS' Fantom G4 Laser Glass Scriber, equipped with a continuous wave 200 watt Co2 laser and a 254mm lens. Operating at 50% power, the samples were cut at a rate of 700mm per second and in one pass. After the G4 made the microcrack in the glass, the samples were then broken by hand.
The Fantom G4 Glass Panel Scribing Machine: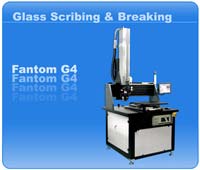 Fonon Display and Semiconductor Systems' Fantom G4™ utilizes Zero Width Laser Cutting Technology® (ZWLCT®) which allows scribing glass and other brittle material applications to be processed with tremendous speed, no material loss, and no chips or other debris associated with conventional scribe and break techniques. The methodology utilizes a non-contact laser induced internal stress to produce a controlled separation. Since the technique is non-contact, the surface degradation associated with mechanical scribe and break is eliminated. Yield loss as a result of particulate damage is also greatly reduced. Cutting substrates in clean room conditions becomes feasible with ZWLCT® leading to the ability to introduce a production line concept into clean room substrate manufacturing. This has not been possible before because of debris generated during cutting and edge grinding which will not be generated during ZWLCT® processing. In addition, cleaning facilities can also be substantially reduced. These factors offer a cost effective solution to manufacturing space and efficiency. This tool is part of a new line of industrial laser cutting systems from Fonon DSS.

Free Sample Processing:

Fonon DSS' experienced staff of engineers are familiar with a wide variety of applications across many different manufacturing industries. Send in several samples with a complete description of the processing requirements. Fonon DSS' engineers will complete the application and return the processed samples, a detailed applications report and equipment recommendations - at no charge. For more information about free application sample processing, please contact Fonon DSS today.

Fonon Display and Semiconductor Systems (DSS) is a division of Fonon Technology International, the world renowned inventor and manufacturer of Zero Width Laser Cutting Technology. For more information about Fonon DSS' systems, please visit http://www.fonondss.com or call 407-829-2613.