Laser Scribing Glass
Fonon Display and Semiconductor Systems' Fantom G4™ utilizes Zero Width Laser Cutting Technology® (ZWLCT®) which allows scribing glass and other brittle material applications to be processed with tremendous speed, no material loss, and no chips or other debris associated with conventional scribe and break techniques. Additionally, when ZWLCT® is utilized to scribe glass, it maintains the integrity of the glass, making it three to five times mechanically stronger.
Application Report: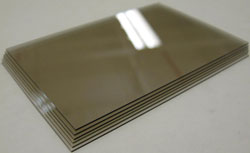 Using the Fantom G4 Laser Glass Scriber, equipped with a continuous wave 200 watt Co2 laser, rectangular glass samples were processed. Operating at 50% power, the samples were cut at a rate of 300mm per second and in one pass. After the G4 made the microcrack in the glass, the samples were then broken by hand.
The Fantom G4 Glass Panel Scribing Machine:
Fonon DSS' Fantom G4 utilizes the latest laser technology for glass scribing and is equipped with an integrated Laser Photonics laser source specifically geared for processing glass panels for the flat panel display industry and the solar industry.
The Fantom G4 Laser Scribing tool is a part of a new line of industrial laser cutting systems from Fonon DSS. It incorporates a new generation modular design laser and precision direct drive high resolution linear motion system forming a precision, stand-alone, small foot print, automatic tool which can be easily integrated into an inline system.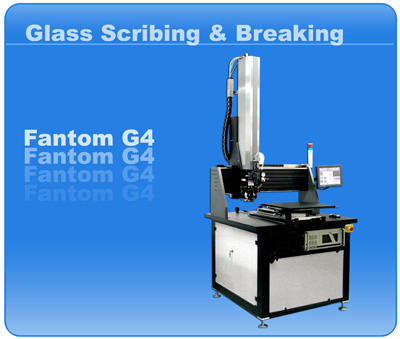 Free Sample Processing:
Fonon DSS' experienced staff of engineers are familiar with a wide variety of applications across many different manufacturing industries. Send in several samples with a complete description of the processing requirements. Fonon DSS' engineers will complete the application and return the processed samples, a detailed applications report and equipment recommendations - at no charge. For more information about free application sample processing, please contact Fonon DSS today.
Fonon Display and Semiconductor Systems (DSS) is a division of Fonon Technology International, the world renowned inventor and manufacturer of Zero Width Laser Cutting Technology. Fonon DSS is the cutting edge developer of state-of-the-art, laser scribing, dicing, marking, coating removal, direct patterning, and photo mask repair solutions to the Flat Panel Display (FPD), Semiconductor, Photovoltaic and Electronics industries throughout the world. For more information about Fonon DSS' systems, please visit http://www.fonondss.com or call 407-829-2613.