Fonon DSS Researchers are finding alternatives
for the LED Industry.
The blue LED industry is fast growing and with the increase of costs associated with producing these highly sought after LED's, manufacturers are now trying to find cost saving alternatives. The major problem these manufacturers are having is efficiently cutting the extremely hard blue LED substrates, specifically the sapphire substrate. Currently there are two substrates that blue LED's are made from, Silicon Carbide and Sapphire. SiC wafers are currently being diced with dicing saws or UV lasers, while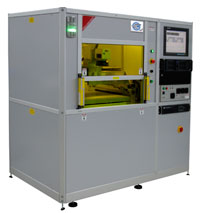 sapphire wafers are usually a three step process. The first process begins with the sapphire wafer being cut down to 100 microns, then scribed with a diamond tool or UV laser, and then finally cleaved with a fracturing machine. With the small LED die size both the saw and mechanical cutting method are causing low die yield and low throughput. Although, some of these current problems are being satisfied with the UV laser, the cost of the gases needed to produce the UV laser has increased drastically, and in turn again raised the production cost.
Fonon DSS has been following this concern from manufacturers and has answered with the introduction of the Blackstar. The Blackstar, which is currently being used in the Semiconductor Industry for PCB's as well as the Solar Industry for dicing and scribing solar panels, is being introduced as the new option to overcome the recent production costs and efficiency down falls. The Blackstar is a major alternative to mechanical saws, which damage the substrates and produce low die yield, and UV lasers, which use high amounts of toxic gases to produce the laser. Researchers at Fonon DSS are finding ways to use the Blackstars' energy efficient High Power Fiber Laser to dice the sapphire wafer with precision cuts, which will increase the die yield and increase production. Fonon DSS is looking toward the future of the LED industry and are creating new products to keep up with manufacturing demands and needs.

Fonon DSS (Display & Semiconductor Systems) is a division of Fonon Technology International, the world renowned inventor and manufacturer of Zero Width Laser Cutting TechnologyTM. Fonon DSS focuses on the semiconductor and flat panel display industries utilizing the patented Zero Width Laser Cutting TechnologyTM (ZWLCTTM) to create products with the highest level of precision.

Fonon DSS provides state-of-the-art Laser Scribing, Laser Dicing and Fiber Laser Marking solutions to customers in the FPD, Semiconductor and Electronics industries throughout the world.
For more information please call (407) 8292613 or visit us on the web at www.fonondss.com.