Application Newsletter-FL600™ Coating Removal

Indium Tin Oxide (ITO) is a transparent conductive material very commonly used for electrodes in the Flat Panel Display industry as well as the fast growing Solar Industry. Currently, the most common process for the removal of ITO is chemical etching, a process that can take up to twenty minutes to complete and requires the use of specially designed stencils.
In contrast, Fiber Laser Technology is a proven process, which performs an ablation using a high intensity laser beam to vaporize the ITO directly from the surface substrate in order to leave the spaces necessary for the proper circuit configuration. In comparison to traditional wet chemistry removal, with Fonon Display and Semi Conductor Systems' FL600™ no chemicals are used, meaning no pollution or chemical waste disposal this significantly reduces operating costs.
The FL600™ is a basic ITO removal system utilizing proprietary fiber laser technology by Fonon Display and Semiconductor Systems (Fonon DSS). It performs direct imaging by laser beam for patterning of ITO coated glass and plastics offering flexible, immediate, CAD friendly large area patterning without wet photolithographic processes.
The FL600™ is capable of direct fiber laser patterning on indium tin oxide (ITO), TCO, TO, anti-reflective coatings on glass and PET plastic film used in the FPD industry, automotive windshields and rear view mirrors, architectural windows, photovoltaic cells, solar panels, and semiconductor applications.
Application Report:
In this application, glass samples were processed using the FL600™ equipped with a 12 Watt Q-Switched short pulse fiber laser with a 254mm lens. The glass was etched using 11 watts of power, frequency of 20 kHz, and speed of 45 inches per second. For more information about free application sample processing, please contact Fonon DSS.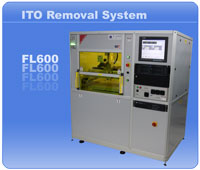 Fonon DSS, the cutting edge developer of state-of-the-art, laser scribing, dicing, marking, coating removal, direct patterning, and photo mask repair solutions to the Flat Panel Display (FPD), Semiconductor, Photovoltaic and Electronics industries throughout the world. For more information about Fonon DSS' systems, please visit http://www.fonondss.com or call 407-829-2613.